Unlimited devices, cheap and advanced Surfshark VPN protects your privacy online!
When choosing a VPN, I believe that security must be the priority for most people. But except security, what factor do you consider first, is it speed, price, or the simultaneous connections? If you don't have a particular preference, then why not consider a well-rounded VPN? I believe Surfshark can meet all your needs. It has won the 2022 CanalTech most popular VPN and was awarded the Solution of the Year at CyberSecurity Breakthrough Awards 2022.
A breif introduction of the features of Surfshark VPN
As low as $2.05/month
3200+ VPN servers located in 100 countries
Unlimited devices
Fast speed
Industry-leading security & encryption
No activity logs
Provide multihop servers and static IP
Multiple advanced functions include kill switch, IP rotator, and NoBorders mode
Full refund within 30 days
Great customer support
For detailed introduction, please go to: Surfshark VPN:Secure your digital life, worth trying!
Surfshark VPN Review — Server
Surfshark has deployed 3,200+ servers in 100 countries around the world, what a large cover. I believe it is definitely enough for you. What is even more gratifying is that all servers do not occupy your broadband traffic. But, the servers are mostly concentrated in the US and Europe, and it would be great to add more servers in the Middle East, Africa, and Asia.
In addition, Surfshark provides city-level servers in the United States, Canada, France, Germany, Australia, and other countries. Among them, the coverage of the United States is quite wide, and you can choose a server from as many as 26 cities. Moreover, Surfshark also provides different types of servers for different applications, such as static IP and MultiHop servers on Windows. On Mac, you will see physical, virtual, P2P, and MultiHop servers.
Surfshark VPN Review — Speed
Surfshark offers good speed and stability, but you have to be aware that in addition to distance, the VPN protocol you choose can also affect speed. I didn't know it until I used the VPN for a while. However, you can set the protocol to "Automatic", which will help you choose the fastest and most stable protocol, so that you will get the fastest network speed.
According to my use, the VPN connection speed of Hong Kong server is very good, and the download speed reaches 65Mbps. After switching to Frankfurt, Germany, the speed has dropped due to the long distance, and it is about 55Mbps. I also tested the speed of connecting to several cities in the United States, basically at 50+Mbps. It is not bad, I can watch high-definition videos smoothly, which I have verified on Netflix. And it can also download very large torrent files, Nice! All in all, Surfshark might not be the fastest VPN out there, but its speed definitely ranks among the top on the VPN market right now!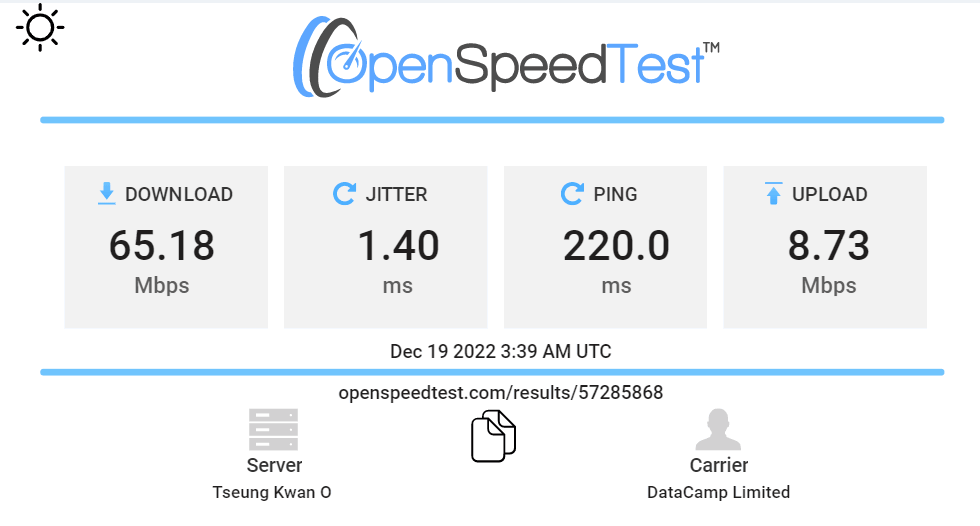 Surfshark VPN Review — Security and Privacy
Surfshark uses IKEv2, OpenVPN, WireGuard protocols and AES-256-GCM encryption, which is a newer and more secure encryption technology than the AES-256 encryption used by most VPNs. Therefore, its basic VPN security is beyond doubt. And it also enforces a no-logs policy. It does not collect your identifying information, and it takes user privacy very seriously.
In addition, Surfshark provides some advanced security features to enhance your experience and protect your network security. It has built-in NoBorders, a mode designed for Internet restrictions and censorship, which can detect if you are connecting in these countries and automatically redirect traffic elsewhere. CleanWeb can help filter phishing websites, malicious ads and virus software, etc. What's more, it also has functions such as IP rotation and kill switch. IP rotation can change your IP without changing the server, and kill switch can make sure your internet traffic is not exposed to danger when the VPN is disconnected.
Surfshark VPN Review — Ease of Use
Another reason I recommend Surfshark is that the Surfshark app is really easy to use. The function symbols on Its interface are clear and easy to understand, and the layout is reasonable. You can find the buttons very intuitively, even for novice users. For example, you can select a server, a VPN protocol, and an APP language on the left. After the connection is successful, "Protected, your connection is safe" will be displayed on the right. Such prompts make people feel very reassured.
In the aspect of selecting a server, Surfshark does not provide a map, but each country has a national flag, and the server countries are listed alphabetically, which makes it easy for users to find the server they want. Of course, you can also search for it, or just click "Fastest location" or "Nearest country" to connect to your ideal server with one click.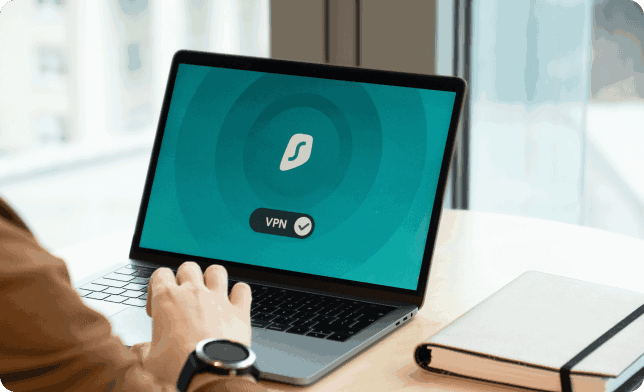 Conclusion
Alright, this is my experience with Surfshark. Maybe my experience is not comprehensive enough, and it still has many outstanding features that have not been introduced, but it is a very good VPN in my eyes. If I can't set your mind at rest, you can go to listen to more people's reviews. But I want to remind you that the best way is to try it yourself. The price of Surfshark is very favorable, as low as $2.05/month. If you are not 100% satisfied with their service, you can request a full refund within 30 days, no risk!