Genuine review of CyberGhost VPN, good speed and streaming performance!
I've used a lot of VPNs to help me avoid IP leaks while surfing the web, but to be honest, I'm not satisfied with the performance of any of them. Some are not secure enough, some are not easy to use, and some provide slow speed. I felt like it pretty much met all my VPN needs until I came across CyberGhost.
A breif introduction of the features of CyberGhost VPN
As low as $2.03/month
9612 VPN servers located in 91 countries
Up to 7 devices protected simultaneously
Fast speed
Industry-leading security & encryption
No activity logs
Provide dedicated IP
Provide dedicated servers for gaming, torrenting, and streaming
Multiple advanced functions include kill switch and and smart rules
Full refund within 45 days
Great customer support
For detailed introduction, please go to: CyberGhost VPN:Premium service, user-friendly, big discount!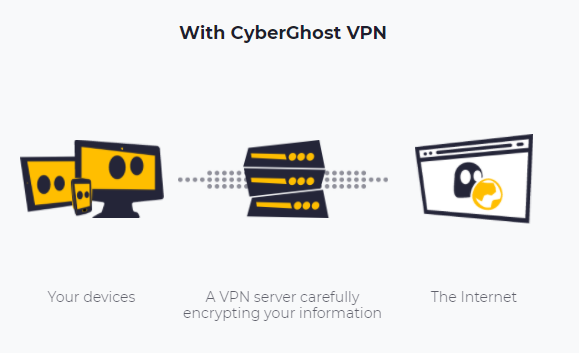 CyberGhost VPN Review — Server
CyberGhost has over 9600 servers around the world. Amazing! With coverage on every continent except Antarctica, you can easily find the server closest to you. And, it is equipped with more than 50 dedicated servers to unblock streaming in 10 countries and provide spy servers (more secure and faster than regular servers) to meet your specific needs. Therefore, the server network of CyberGhost VPN is very large and comprehensive. You have to admit it is comparable to Nord&Express VPN in this aspect.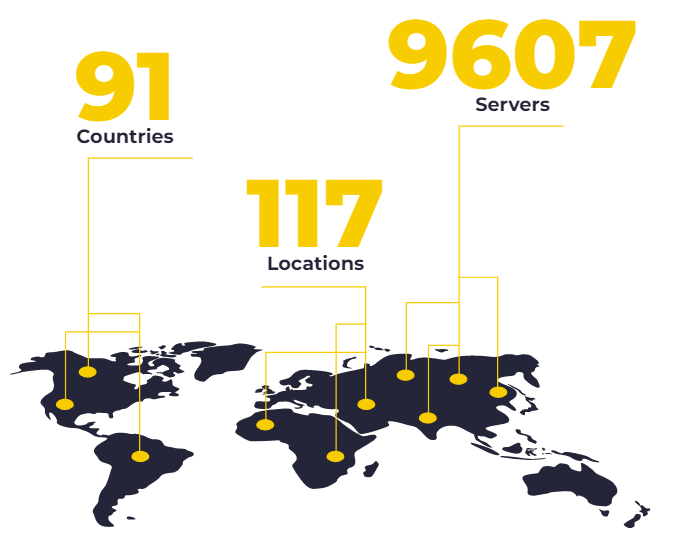 CyberGhost VPN Review — Speed and Amusement
The connection speed of CyberGhost is fast. I first chose the LA server, and it took only a few seconds to connect successfully after clicking the quick connection button. I also got a quick connection when I select servers in Frankfurt, Germany, and Tokyo, Japan. I tested the speed test, it was all around 40Mbps. Of course, I must admit that connecting to the Japan server is a little bit slower than connecting to LA, which may have something to do with the distance. But overall, its speed is decent.
I tested CyberGhost for gaming, torrenting, and unblocked streaming, and it was great. This may be related to the fact that it provides dedicated servers. When you want to play games, you can connect to the game server and you will enjoy a very smooth Internet speed. The same goes for unblocked streaming, where videos on streaming sites require very little buffering — even when watching 1440p UHD videos on YouTube. And it also works with Netflix, Amazon Prime Video, BBC iPlayer, and other platforms.
CyberGhost VPN Review — Security and Privacy
Many VPN providers claim that their services are very secure, but this is not always true. In my opinion, the security of CyberGhost is trustworthy. CyberGhost uses industry-standard AES-256-bit encryption, which is virtually uncrackable. Moreover, CyberGhost VPN also strictly implements a no-logs policy and will not store your IP address and any activity records.
In addition, CyberGhost also provides some advanced features for security hardening. CyberGhost has a kill switch, which will cut off the internet traffic to prevent privacy leaks if your device's connection to the VPN server is suddenly disconnected without any notification. Also, it can block malicious advertisements and prevent DNS leaks for you.

CyberGhost VPN Review — Ease of Use
CyberGhost supports a one-click connection to the best server, so easy! Of course, you can also connect to a designated server as needed. CyberGhost divides servers into Favorites, All Servers, NoSpy Servers, For Gaming, For Torrenting, For Streaming. It's easy to find the servers you need.
What's more, one of the most notable features of CyberGhost is the "Smart rules". It allows you to customize the security and privacy features of the VPN usage preferences. Many VPNs require manual settings to enable or disable some of these features, few VPN providers give you the freedom to control your VPN like CyberGhost's "Smart rules". One more thing, I like its logo, it is very interesting, and the APP interface is intuitive and clear.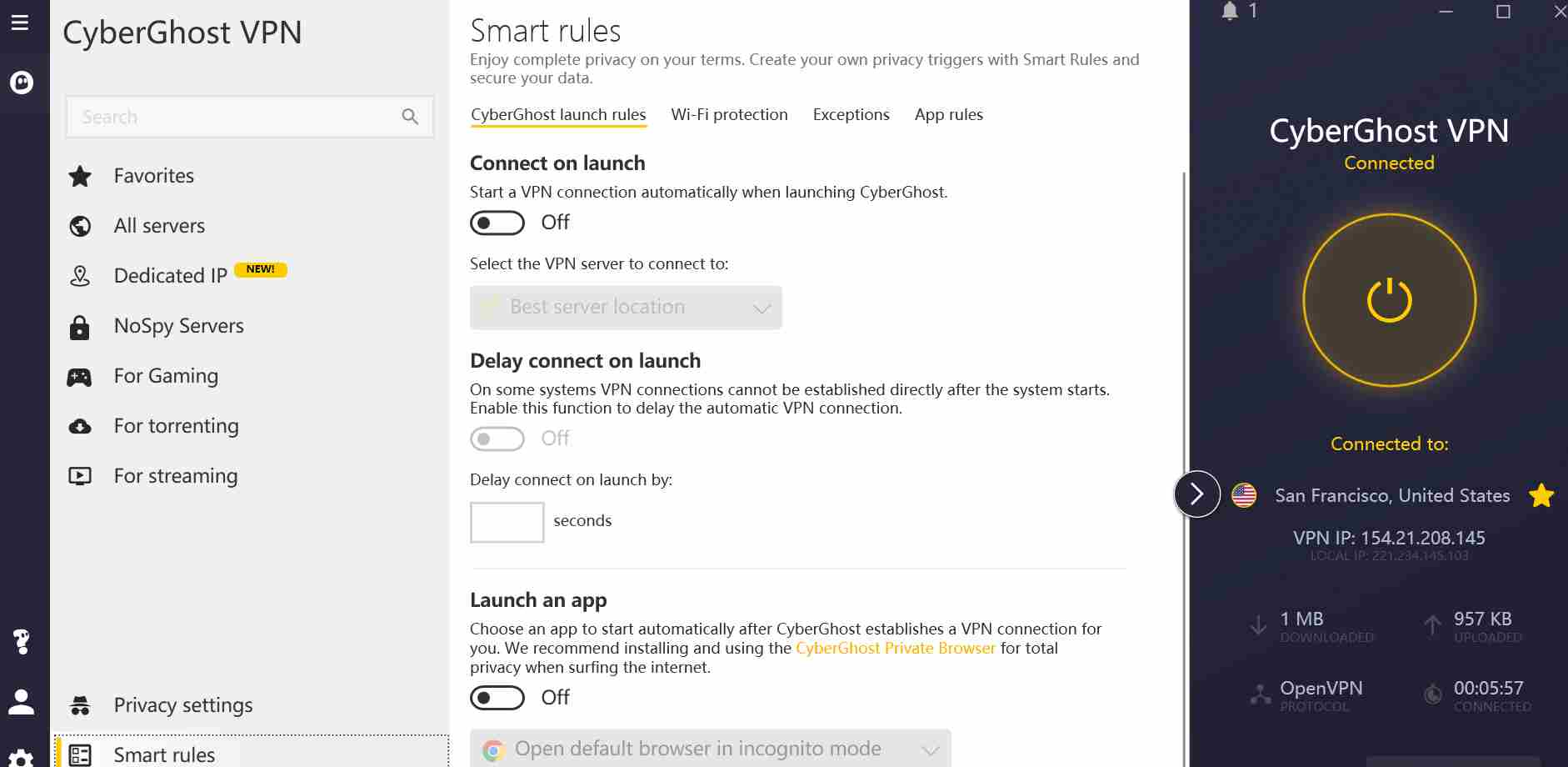 Conclusion
I've introduced my experience, and for me it's trustworthy. So, I subscribed to a 1-year plan to use it on my computer and phone. Sometimes, my family also shares my account. It doesn't matter, it supports 7 devices connected simultaneously. Really good deal! You can try it. It's confident and offers a 45-day money-back guarantee, which is longer than any other competitor!